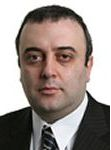 Charles C. Achkar
Partner
212-596-0505 (Direct)
Dr. Achkar's practice focuses on development and management of patent portfolios in the biotechnology, imaging, pharmaceutical and chemical industries. He has substantial experience in matters involving business, science and law. His practice focuses on representation of clients before the US Patent and Trademark Office, management of patent portfolios including biotech, imaging, pharmaceutical and chemical patent procurement, opinion drafting, pharmaceutical and biologics life-cycle and Hatch-Waxman strategies, strategic IP advice related to corporate transactions including due diligence, freedom-to-operate assessments, drug and biological product licenses, acquisitions, company alliances, investments, competitive landscape analysis, and patent litigation support in life sciences including pharmaceutical and biotechnology areas.
Dr. Achkar has represented biotechnology, imaging, pharmaceutical and chemical corporations as well as academic institutions in patent prosecution and intellectual property licensing. He advises his clients on how to create and shape intellectual property portfolios to protect valuable assets. He has developed commercially significant patent portfolios in the fields of biologics, small molecule drugs, gene therapy, diagnostics, vaccines, treatment methods, pharmaceutical compounds and formulations. In addition, Dr. Achkar has significant experience in performing IP due diligence, patentability assessments, freedom-to-operate analyses, invalidity and non-infringement opinions and competitive landscape analyses to a number of clients of varying sizes including, biotech and pharmaceutical start-up companies, universities and research institutions.
Dr. Achkar draws on his vast scientific research experience which includes a Postdoctoral Fellowship at the Department of Pharmacology, Cornell University Medical College from 1991-1995 where he received two grants from the Cancer Research Foundation of America. He is the author of several articles in peer-reviewed scientific journals in the areas of molecular biology, biochemistry, pharmacology, enzymology, nuclear receptors, retinoids, and analytical biochemistry.
Education
J.D., Fordham University School of Law, 1999
Ph.D., Loyola University of Chicago, 1992
B.S., Biology, magna cum laude, University of Massachusetts, 1986
Admissions
New Jersey Bar, 2000
New York Bar, 2000
U.S. Patent & Trademark Office, 1998
Professional Affiliations
American Bar Association
New York Intellectual Property Law Association
New Jersey Intellectual Property Law Association
Languages
French