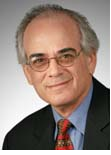 James A. Finder
Partner
212-596-0508 (Direct)
Jim Finder's practice includes counseling and patent prosecution in the electronic, electrical, mechanical and design arts, including RF and communications, lighting and power controls and other digital and analog circuits, semiconductor manufacturing, and business methods.
Outside the office, Jim enjoys cycling, skiing, amateur radio and choral singing.
Education
Massachusetts Institute of Technology, B.S.E.E. 1970
University of Detroit, J.D., 1977
Admissions
United States Patent and Trademark Office
New York Bar
Federal and State Courts
Professional Affiliations
Amer. Intellectual Property Law Assn.;  New York City Bar Assn.; Japan Society
Selected Publications
"Festo: The (Nearly) Final Chapter," Andrews Litigation Reporter, Vol. 1, Issue 1 (Thomson/West, June 2004).
"Statistical Implications of Reasoning with Polygraph Evidence," 3 CARDOZO L. REV. 4 (1981)
Case note, Garner v. U.S., 96 S.Ct. 1178 (1976), 53 U.DET.J.URB.L. 719 (1976)
Awards and Honors
Teaching Assistant, Columbia University Law School, 1978-80
Law Clerk, U.S. Court of Appeals, Sixth Circuit, 1977-78
Symposium Editor, Univ. of Detroit Law Review, 1975-77