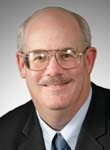 Mark Farley
Of Counsel
212-596-0542 (Direct)
Mark Farley's practice focuses on patent prosecution, client counseling and opinion work.  He specializes in chemical, pharmaceutical and biotechnology-related patent matters for both large and small clients.  He has over twenty years experience in the preparation, filing, prosecution and appeals of patents in a broad array of technical fields, including: pharmaceuticals, polymers, chemistry and chemical processes, biotechnology, pulp and paper, food science, perfumes and flavorants, glass formulations, propellants, motor vehicle passive restraint systems and golf equipment.  Opinions as to the scope and validity of U.S. Patents form a significant portion of his practice.  He has extensive experience in international patent practice with particular emphasis on handling Japanese and European patent matters.  He also handles matters relating to due diligence and intellectual property rights transfers, including the acquisition and sale of intellectual property.
Education
Saint John's University, Bachelor of Science in Biology, 1974
John Jay College – CUNY, Master of Science in Forensic Chemistry – 1977
Touro College School of Law, Juris Doctor (cum laude), 1985 – Senior Editor, The
Touro Law Review
Admissions
New York Bar – 1986
Southern and Eastern Districts of N.Y. – 1986
U.S. Court of Appeals for the Federal Circuit – 1993
Registered to practice before the U.S. Patent and Trademark Office
Professional Affiliations
New York Intellectual Property Law Association
Membership Committee,  2004 – 2006; License to Practice Committee,  2006 – Present
New York State Bar Association
Northeastern Association of Forensic Scientists
Selected Publications
"Infringement Questions Stemming from the Repair or Reconstruction of Patented Combinations", 68 Journal of the Patent Office Society, No. 4, pps. 149-175 (April, 1986).
"The Role of Arbitration In the Resolution of Patent Disputes", 3 Touro Law Review No. 1, pps. 47-110 (Fall, 1986).
"Legal vs. Scientific Truth", 18 Chemtech (June, 1988).
Editor, Forensic DNA Technology, Lewis Publishers, Inc. (Chelsea, Michigan) 1991.
"Legal Standards For the Admissibility of Novel Scientific Evidence", Forensic Science Handbook 3rd Ed. (Prentice Hall 1993).